Just like every other fighter, UFC Lightweight champion Rafael Dos Anjos wants to be a part of the big UFC 200 event. He wants it so badly that two weeks ago, he took a page out of the Conor McGregor book and offered to fight UFC welterweight champion Robbie Lawler at what is expected to be the biggest show in UFC history. But according to his manager Ali Abdelaziz, the UFC has rejected that offer because the promotion has "other plans" for RDA. What those plans are, nobody has an idea.
Dos Anjos also campaigned for a Nate Diaz fight, after Diaz took the injured RDA's spot at UFC 196 and defeated Conor McGregor. Abdelaziz also told the "UFC Tonight" show that the UFC also rejected that proposal for the same reason-"other plans".
So what does the UFC have in mind for its 155-pound champion? First name that comes to mind is poster boy Conor McGregor who is a confirmed participant of UFC 200. But it's highly likely that McGregor would be going back to his 145 pound weight class to defend his belt against either Frankie Edgar or Jose Aldo. So that takes Mystic Mac out of the Rafael Dos Anjou equation, at least for UFC 200 or RDA's next immediate bout for that matter.
That leaves us to the list of 155 pound challengers that are waiting to get the next crack at the Lightweight gold.
On top of the list is #1 contender Eddie Alvarez, who is going off back to back wins over Gilbert Melendez and Anthony Pettis. Alvarez has won five of his last six bouts, with his only defeat coming at the hands of Donald "Cowboy" Cerrone who incidentally, Dos Anjos knocked out last December in the latter's first title defense. Alvarez has a rightful claim because although his wins over Melendez and Pettis were "boring", he beat two fighters who were involved in three of the last four UFC Lightweight title bouts. Alvarez recently told Fighthype.com that he wants to fight Dos Anjos at UFC 200.
Then there are #2 ranked Khabib Nurmagomedoov and #4 Tony Ferguson, who are slated to fight at UFC on Fox 19 on April 16. The winner of that bout should have a claim as justifiable as Eddie Alvarez's. Nurmagomedov is the owner of one of the current longest unbeaten streaks in MMA at 22 wins. He was ranked #1 in the 155 pound division before injuries forced him to sit out the last two years. Nurmagomedov is the last man to beat Rafael Dos Anjos and if he beats Tony Ferguson, he should be highly considered to challenge RDA at UFC 200 too. On the other hand, Ferguson has won seven fights in a row, including five by stoppage. El Cucuy is coming off a very impressive 2nd round submission of Edson Barbosa at the TUF 22 Fyinale. Although he may be a long shot to face RDA at UFC 200, a victory over the 2nd ranked Nurmagomedov should make him a worthy title challenger.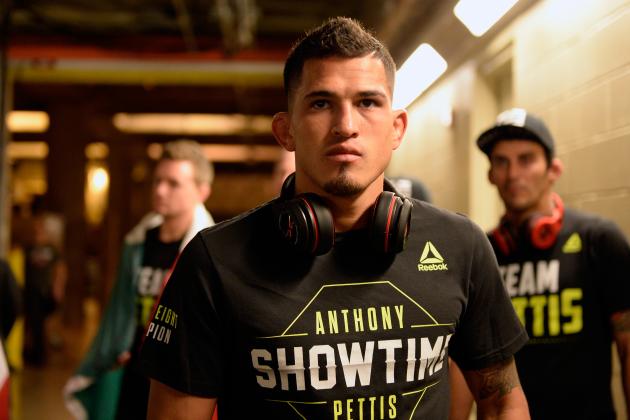 Sandwiched between Khabib and Ferguson in the rankings is former champion Anthony Pettis, the man whom Dos Anjos dethroned at UFC 185. The 3rd ranked Showtime is scheduled to fight Edson Barboza on April 23 at UFC 197. However, Dos Anjos versus Pettis 2 is a fight not many are talking about, especially not Dos Anjos. It's unlikely that the UFC will make that fight either, because RDA completely wiped out Pettis during their March 2015 encounter.
Rafael Dos Anjos' logical list ends there as the next highest fighter on the rankings is Nate Diaz, whom we earlier said the UFC refused to give to Dos Anjos as his UFC 200 prom date. The decision to keep Diaz off RDA is understandable because Nate's such a valuable commodity right now that the UFC can put him against anybody next and sell the fight easily. So much for Dana White saying Nate isn't a needle-mover.
The only other notable fighters  remaining in the Lightweight's Top 10 are Edson Barbosa and Donald Cerrone. Dos Anjos knocked out Cerrone in one round last December:
while Cerrone submitted Barbosa in Round 1 in 2014:
That sequence probably leaves both out of the equation too. So what are the UFC's "other plans" for Dos Anjos? It's likely those "plans" aren't plans at all. Dos Anjos may not be on Dana White's bucket list for July, not especially since he pulled out of UFC 196 with an injury. Dos Anjos has never been  big sell in the first place. He may be very good and may be on top of his game right now. But those aren't the qualities that sell fights these days.
It's also understandable why the UFC is unwilling to give RDA the Robbie Lawler fight because it may be saving Robbie for a GSP comeback fight. The former 170 pound champ hasn't decided on a comeback, at least not yet. If he does, Robbie Lawler would be the correct fight to make for GSP.
Rafael Dos Anjos' shot for a big payday was at UFC 196. Unfortunately, he got injured. That wasn't his fault. But that is not also a reason why he should be given a slot at UFC 200 either.