Vasyl Lomachenko says its personal between him and Orlando Salido. Salido doesn't think so.
It was two years ago when Vasyl Lomachenko and Orlando Salido locked horns at the Alamodome in San Antonio Texas. Salido had already lost his WBO Featherweight title in the scales the day before the fight. But that didn't stop him from pulling out all the strings to beat his highly touted foe.
Getting a title shot in one's second pro bout was unheard of in boxing. But by virtue of being the greatest amateur boxer of all-time, Loma got it on a silver platter. Salido already lost his title on the scales the day before the fight. But that didn't stop him from driving home a point: Prizefighting isn't as easy as the amateurs.
Salido used every trick in the boxing book-both good and bad. To his credit though, he took the fight to Lomachenko and pressured him all night long. Salido threw 300 more power shots than his opponent- majority of them to the body, many of them low. Salido didn't just hit low, he hit low consistently.
It didn't help Lomachenko that the man who called the shots inside the ring was Lawrence Cole, a referee no stranger to controversy. Cole never warned Salido more than once for hitting low despite the fact that Salido perhaps landed over a hundred of them.
Vasyl Lomachenko lost by a close split decision but he never complained. Instead he vowed to learn from his mistakes and come back better. Since then, he's been on a tear. And last weekend, Lomachenko became the fastest man to win world titles in two different weight classes, doing it in just seven bouts or one fight better than Japan's Nagoya Inoue. Everyone expected Lomachenko to beat Rocky Martinez last week. But who would've expected him to end that fight with a thunderous knockout? We expected him to show his technical expertise, but the power punch that ended the bout made it extra special.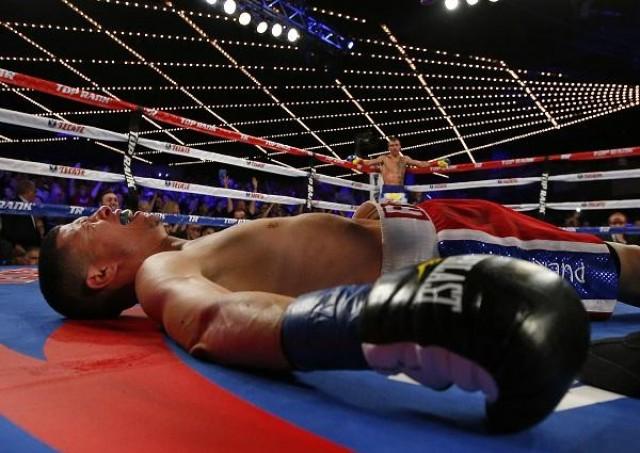 Now the talk of the town, Lomachenko wants another crack at his tormentor:
"For me and Salido it's personal. He did a lot of bad things in our first fight but we never said a word after that fight. But it ate at me. I want Salido next."
Lomachenko was 396-1 as an amateur. His only loss came at the hands of Russian Albert Selimov. He avenged that twice. So now you know why he wants a rematch with Salido. While Salido does't think it's personal, the rugged Mexican warrior has no qualms fighting him again:
"I don't care what Lomachenko said (after the knockout of Martinez). Me and him are not personal, at least not by me, and I have no problems fighting him again."
Hoever, that may not be in his immediate plans.
Despite not having a win since September 2014, Orlando Salido has got it going for him right now. Salido fought Rocky Martinez twice last year, losing by a close shave in the first and salvaging a split draw on the next. He then fought Francisco Vargas last June 4 and walked away with another Fight of the Year candidate. That bout ended in a draw, and according to Salido's manager Sean Gibbons, that is the fight Siri wants next:
"Orlando Salido is not chasing Vasyl Lomachenko at all. He beat Lomachenko but on the other end, Salido turns down nobody. But he feels committed-he has unfinished business with Francisco Vargas and Orlando's goal is the green belt because he wants that opportunity to win that belt he already won."
Vasyl Lomachenko may be on top of the boxing world right now. But as far as getting his Orlando Salido rematch, that may have to wait for now.