As a fighter, Julio Cesar Chavez Sr. was known for his incredible work ethic. That was perhaps one of the big reasons why he went on to become the greatest boxer in Mexican history. Unfortunately, Julio Sr.'s strength has always been the problem of his boxer-son, Julio Jr. who's been trying to follow his footsteps.
Junior has his father's courage, bravery and toughness. But discipline has always been a concern. That perceived problem has led to Junior missing weight several times, having four trainers in his last six fights and a suspension stemming from the use of banned substance. Despite all these, Julio Cesar Chavez Sr. stood by his son and defended him from public scrutiny.
But now it seems that the father has had enough. In a March 1 interview with ESPN Deportes, Julio Sr. had some harsh words for his beloved son:
"I'm going to come right out and say it because I can't keep covering up. if this young man, who is my son, keeps with this lack of discipline ..this irresponsibility that he has, I just recommend that he retire and doesn't fight anymore – with all due respect, the truth is I'm worried because this kid wants to do things his own way, train when he wants, do what he wants, and that's not how it works. I can't deal with this kid anymore, I'm disappointed with his apathy and his lack of discipline and honestly, I don't know what to do."
It was a shock to hear Julio Sr. say that because while the rest of the world had already given up on his son, father always had his son's back.
From the time he was a kid whom his father brought to his ring entrances to the fighter whom he helped guide throughout his career, Julio Cesar Chavez Sr. literally led Julio Jr. to the ring:
He gave him a name like his, one that gave Junior more than just a second chance to become great like him. Julio Jr. kept making one mistake after the other. But each time he did, his father was always there to have his back. And each time father pledged his support, so did his fans.
When Junior got suspended for marijuana use in 2012 in the aftermath of his loss to Sergio Martinez, the elder Julio threw his support behind his embattled son:
"He has all of my love, my support… I will defend my son tooth and nail against those who are always trying (to attack him)… I will defend my son against any aggression, against any misunderstanding."
Three years later, Julio Sr. was against his son fighting Fonfara not only because he was coming off a 13 month layoff and was moving up two weight classes, but because Fonfara was a top ranked Light Heavyweight. Junior lost that April 2015 bout when he retired on his stool before the start of round 10. But father defended his son once again.
Aside from claiming that his son didn't quit and wanted to fight on against Fonfara, Chavez Sr. also kept the faith in Junior:
"For me this defeat is like a win because things will change. I'm with him through thick and thin as a parent because truthfully I am happy-obviously I'm saddened with the loss but happy because he fought an opponent as I had said, is strong and I said I did not like this fight at this weight. Julio did not fight for a year but I still think Julio grabbed some credibility for this fight."
To his critics, the loss to Fonfara was the final straw in Julio Jr.'s boxing career. It was only his second career loss, but it punctuated his shortcomings and disappointments: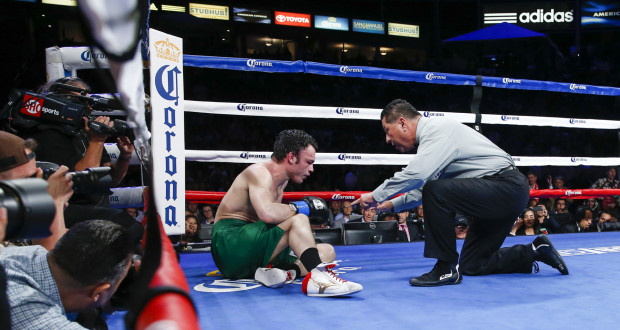 But just when we thought that was the last of Julio Cesar Chavez Jr., he fought again three months later and scored an unimpressive win over Marco Reyes. He took the rest of the year off with an injured hand and by the end of 2015, Junior declared that he was gunning for Badou Jack's WBC Super Middleweight title.  He's since holed himself up at Big Bear with trainer Robert Garcia, starting camp in anticipation of an April 30 bout with Jack. That fight is not yet official. What's official though is his father has finally waved the white flag.
Most of the boxing public had already given up on Julio Cesar Chavez after he lost to Fonfara. His personal issues grew faster than his game improved. Let's face it. He wasn't born with much talent. He got into the sport because of his father. He got his opportunities because his namesake is the greatest fighter to ever come out of Mexico. He got his fans because they all loved Julio Sr.
Make no mistake though, Julio Cesar Chavez Jr. is a much better boxer now than he was when he was 42-0-1 but fighting unknown foes. During his peak, he captured the WBC middleweight title. He beat solid foes like Sebastian Zbik, Peter Manfredo, Marco Antonio Rubio and Andy Lee. But he was never elite like his father, nor will he be great like him.
It was always hard to live up to a name like his and that was perhaps his biggest challenge. It was both a gift and a curse for Julio Jr. There will only be one great Julio Cesar Chavez in boxing and it's not Junior.
Now that even his father has given up on him, what's next for the "Son of The Legend"?